Serving Warren, Hunterdon & Morris Counties
Septic Excavation Services in New Jersey
Call to Schedule Septic Service Today!
(908) 689-9088
Septic Excavation
When Replacing a Septic Tank or Repairing a Damaged Septic Tank, Your Yard will have to be excavated. Tri-County Septic saves you both time and money by offering these services in-company.
Avoid the unnecessary headache of coordinating multiple contractors for one job. We have the equipment and expertise to handle all of your Septic Needs from the Septic Inspection, to completion.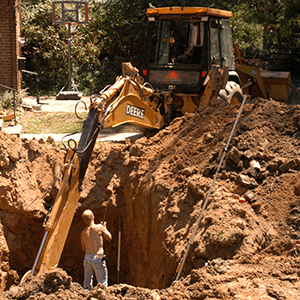 Why do Septic Tanks Fail?
The most common reason that septic tanks fail is that they are overloaded. When a homeowner delays septic pumping, or simply over the course of many years, the leach field can become so gummed up that it simply cannot absorb any more fluids. This causes strain on the septic system.
As a septic tank ages, components of the tank can crack and deteriorate resulting in cracks or bursts, resulting in the need to excavate and repair or replace the tank. If your leach field is gummed up and not absorbing water, you can rejuvenate your leach field with Terralift.